For months, I've been noticing a tempting and colorful display of Mast Brothers Chocolate at my favorite local coffee spot, Cafe Pedlar. I'm usually not in the mood for chocolate while buying a latte at 7:00 AM, but couldn't help but notice the lovely papers wrapping these fancy American craft chocolate bars. Mast Brothers Chocolate was founded by brothers Rick and Michael Mast and is based in Williamsburg, Brooklyn. Their chocolates are wrapped by hand using beautifully crafted papers designed by the their family and friends.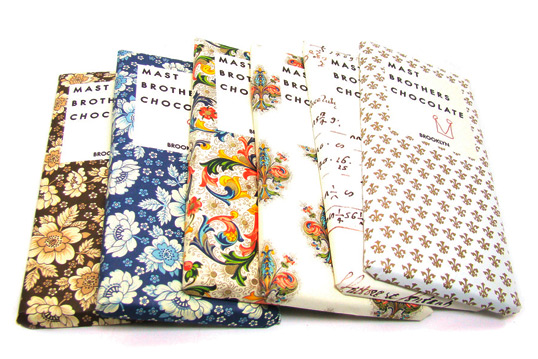 This week, I finally bought a bar. Naturally, I had to see if it tasted as good as it looked. I tried the Almonds and Sea Salt flavor and was very impressed. This dark chocolate bar is made with 74% organically farmed cacao, cane sugar, biodynamic almonds, oil olive, and sea salt harvested in France. This combination of quality ingredients and careful crafting results in a sophisticated tasting chocolate with a perfect combination of salty and sweet flavors that made my taste buds happy. Next, I'm dying to try the Serrano Peppers variety which combines dark chocolate from the Dominican Republic and super spicy dried Serrano peppers.
You can buy Mast Brothers Chocolate online or from a number of shops in New York City and beyond. If you're in Brooklyn, stop by their tasting room and take a tour of their Williamsburg factory. Tour tickets cost $9.99 per person and need to be booked in advance. I'll be adding this tour to my summer vacation to do list.